The second person to take the interviewee chair and let me dig deep into their soul is Mishka Gillies from
Accio Lacquer
! Read on to see why her rare nail art is to be way more appreciated, how the two of us connect, and what are some sentimental polishes in her growing stash!
-First of, tell us a bit about yourself, aside from the nail polish.
I'm pretty much the same person in real life that you see on the blog...but more boring. I make really, REALLY bad jokes, I read a lot, get far too emotionally invested in TV shows and films. Pretty average, I suppose.


-How did you get into nail polish?
I started getting into lacquer after my dad passed away, but it real took over when I found out that China Glaze had a Hunger Games collection. I have been obsessed with the books since day one, and the thought of owning polishes inspired by the series got me hotter than Hades!


-What was the first nail polish bottle you've ever owned?
Oh, I represented with my Tinkerbell peel-off polish! My five-year-old self ROCKED that pink magic!


-What is you most precious bottle of polish, the one you'll save in the apocalypse? Why?
A bottle of Sally Hansen Mint Sorbet that my dad bought me when we were in California.


-What is you worst nail-habit?
It's a scary truth. I don't know if I should tell you about the reality that is my right hand. My non-swatch hand rocks nubs so hardcore that, to see it, you would NEVER believe I was a nail blogger. Even when I go out, I don't paint it. Seriously, caveman status. [my remark- That's just me! Minus the nubs...]


-Which nail shape will you never try, and which one you are just building up the courage to change to?
I'm not sure that there's anything I will never try, I just doubt I'll ever stray from my squares. But I LOVE me some almonds!


-Why and when did you start your blog?
I started blogging back in December of 2012. My stash was getting out of control, so I really felt like I needed to start doing something to compensate for how much polish I owned at the time. "See, you can't shame me, nameless friend. I'm a nail blogger. It's totally normal for me to own hundreds of bottles of polish."
-Where do you get inspiration from?
I mainly draw inspiration from all of the books I read, and films and TV shows I watch. I'm a very media-driven person, it would seem.


-Share with us some of your favorite bloggers.
Sooooooo many!!!! I know I'm going to forget some, but my mainstays are:
4Boys1Mom
,
Adventures and Mishaps in the Land of Polish
,
Flails & Nails
,
The Nailasaurus
,
Chalkboard Nails
,
Lace & Lacquer
,
Claw of Cthulhu
,
Royal Milk Tea
,
Oh Three Oh Four
,
The Lacquerologist
,
Kimber's Lacquer Korner
,
Paint Those Piggies
,
The Crumpet
,
Kat Stays Polished
,
Globe & Nail
And OF COURSE The Lazy Nail!
I'm all about humor, great swatches, and nail art. The blogs up above give me all of those things and more.
-What is your favorite manicure of yours?
I feel like my favorite manicure always changes, but my favorite for right now has to be the one I created using Delena from Fandom Cosmetics.
-Your blogs is flooding with indie brands. Which brand is your favorite?
Oh my glob, you might as well ask me what my favorite thing about George R. R. Martin is!!!! I have a handful of absolute loves, but I don't know that I could name one favorite.
-And here is an even harder choice to make- what is your one and only fandom?
TIMING! I answered the above question without looking at the one below. There's some relevancy happening here. As much as Harry Potter, Doctor Who and all of the others mean to me, A Song of Ice and Fire is at the top of my pyramid. Those books changed me in a way I cannot even describe.
-What is your all time favorite gif [or gif set]?
Now there's one that I really don't think I can answer. I am very, very partial to any gif with Dr. Steve Brule, though.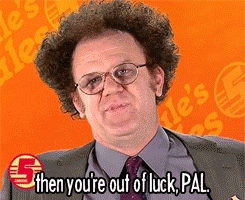 Dr. Steve Brule
-You are well known in the nail art community for your wit, your puns, and your gifs. How does it feel to know that so many people look up to you as a blogger?
Honestly, that part still blows me away. It's incredibly humbling to realize that so many people care. It has absolutely changed my outlook on life. <3


-You take part in many giveaways, and it seems you are quite addicted to them. Why do you love them so much?
That really connects to the above question. The amount of love that I get from my Readers makes me want to share my happiness. I know it sounds completely cheesers, but it's the truth. <3


-Is there a goal in the nail art world that you want to achieve that you haven't already?
Oh lawdy, there will always be goals. Without them, life would be stagnant and boring. My current nail art goal is to become better with my fine paint work. My left hand is my swatch hand, and I'm actually left handed. So training my non-dominant hand to get things done can be tricky at times.